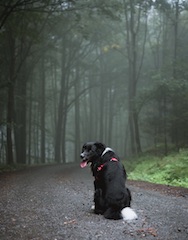 Pet lovers do their best to ensure their home is safe and secure for their dogs, but it is vital to ensure the same safety when they head out into the Great Outdoors with Fido. There is certainly a great reason to do so; around 56% of all dogs in the U.S. are overweight or obese, and one antidote to this problem is exercise! If you have a fun trek in the mountainside lined up, follow these tips to make it problem-free for both you and your pooch.
Endurance and strength
Only take a hike or walk that is within the abilities of your dog. Older dogs or those with heart conditions, for instance, will benefit from shorter, gentler walks, while very energetic and young dogs may complete a long trek in no time. A good idea is to consult your veterinarian about the appropriate trek length and difficulty for your dog. Bear in mind that if it is hot, brachycephalic breeds (such as pugs, English bulldogs, and Boston terriers) can have breathing difficulties and should be kept out of the sun. If you are headed for a sunny area, bring sunscreen for delicate areas on your dog's skin (such as the nose and paws).
Vaccination and parasite protection
Ensure your dog's vaccinations are up to date and protect him against fleas and ticks by using a quality medication or collar. Stay away from stagnant water, which can cause leptospirosis: a flu-like vaccine found in contaminated soil and bodies of stagnant water. There is a vaccine for this (which is not effective against all strains) so if you will be near a river or lake, this may be useful. Once again, ask your vet about its necessity for the area you are planning on visiting.
Stocking up on essentials
A trek can take hours to complete; as many as four hours or more, so make sure you keep your dog hydrated by bringing a collapsible dog bowl and a couple of healthy treats he can enjoy while you are having a break together. If you will be camping overnight, a good idea is to store separate portions of his food, for greater ease at feeding time. If your dog enjoys fruit and other treats, pop a few into his backpack to add vitamins and nutrients to his meal. If trekking is a frequent pastime, curated outdoor product sets can kill two birds with one stone, since they usually include a Camelback for you plus an extra flask or two that can carry extra water for your dog. Another essential is a soft blanket for your dog to sit on while you are resting.
Ensuring safety
Bring a good harness and leash; while some areas may be safe for your dog to run freely in, others won't. Moreover, if you are hiking along a popular track, it is likely you will come across other people and their dogs. Allowing your dog off-leash at all times is dangerous because they may encounter animals that can bite and infect them.
If your dog is fit and healthy, he will surely enjoy a trek in the Great Outdoors as much as you do. Bring the right gear for the weather, protecting your dog against intense heat and cold. Make sure he has enough food and water, and bring a few extra treats for his effort. Finally, make sure all his medical needs are fulfilled. This includes any pertinent vaccinations, pest repellents, and medications he may need. 
Copy Courteousy of Sally Writes.
Picture courtesy of: tadeusz-lakota-723595-unsplash.jpg