Your phone is already connected to your life. Why isn't it connected to your dog? – Introducing the LiNK™ Bluetooth-connected rechargeable collar.
Imagine the world's tiniest, lightest and rechargeable containment collar. Now imagine connecting this Bluetooth collar to your pet fence system through your smartphone. Stop dreaming. The wait is over and you can only get it thru Pet DeFence. LiNK is a Bluetooth-enabled dog fence receiver and smartphone app made exclusively by Pet Stop. LiNK monitors your pet's behavior and the working state of the receiver. You can proactively adjust your collar's settings with a quick click.
You can even contact and message us (your dealer) through the app. With LiNK you'll have access to real-time information at your fingertips and so will we if you ever need help troubleshooting your dog's behavior or his collar. I can even send you programming changes for your dog's collar over the air.
LINK makes it all so easy. LiNK's breakthrough technology forever changes the peace of mind you get from your hidden dog fence.
With LiNK, you can instantly access more receiver settings than with any other manufacturer's brand.
Only LiNK receivers and Smartphone app give you access to: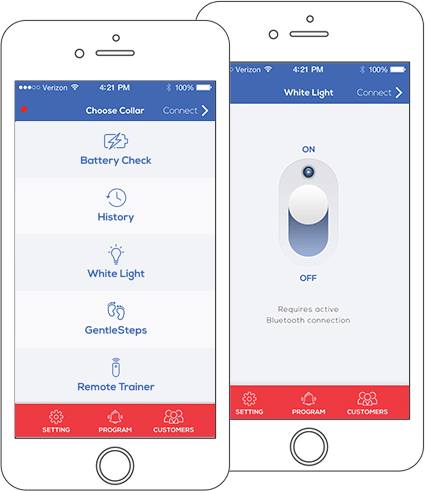 The world's smallest (3/4 oz) for the small dogs in your life for greater comfort and better for larger dogs as well – Comfort fit
Gentle Spring Contact Points – Comfort and consistent contact = Less stress and greater safety
Lower correction levels for tiny dogs – Less Shock = Less Stress for you and your furry buddy.
A remote training collar feature for off-leash training – Eases your ability to fix behavior problems
On-the-fly shock level adjustments – Speed and convenience
A night-light feature built into the receiver to visually monitor dogs at night from a distance – Security
Access to thousands of programming options for special circumstances – Training ease
Simple training level adjustments during the SafeYard® training period – Training ease
Reviewable warning history to see the progress of your dog's training – Knowledge is power – Safety
Battery recharge alert on your phone so you know before your dog – Safety and convenience
Help in finding a misplaced collar using tones and signal strength monitoring – Ease and safety
"Stopper" and "Push-Back" feature for stubborn dogs that test the fence – Training ease
Higher correction levels that make "trouble-makers," think twice before testing the fence – Training ease
Your dealer can send customized programs for "special" dogs to the LINK App  – Convenience
Call today (913-345-2533) and be the first in your neighborhood to use a LiNK receiver.